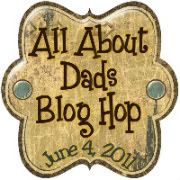 Welcome to the All About Dads Blog Hop! We have gathered a talented group of crafters to share their projects with you for Father's Day. We hope that we are able to provide you with lots of great ideas for all the special men in your life.
If you have come from DD at
www.craftydeb-ddscrafts.blogspot.com
, then you are in the right place. If you stumbled upon my blog and want to hop along, you can do so by starting at Jen's Blog at
www.memorieswithjen.blogspot.com
.
Hope you are enjoying yourself on this hop and have learned a few things. Now on to my projects.
I made 2 different projects for Father's Day. One for my papa (dad) and one for my best friend.
My best friends:
I took a black dinner plate and I found me a picture of my best friends girls. I printed it out and cut it up. I then found some nice manly paper and cut a big heart out of it. I slanted the heart on the right side of the plate. Then placed the girls photo half way down it also slanted. I then took a ATC of a sail boat and put it on the left hand side. I figured that was manly. lol . I then took a small sticker that says "best buds" and put it at the top (wasn't aware that the sticker glue would show thru and was to stuck to pull back off).I grabbed my bottle of pumpkin smooch and sketched out happy fathers day along the top and bottom. I tried to use die cuts but my Cricut was acting up. I used my smooch in pool and wrote love under the girls.
I heart dad:
I took a picture frame with a heart in it from Michael's and I painted it a light green. I then took some green glitter essentials paint and went over it. That in turn gave it a gold glitter look to it. When it was almost dry but still a little tacky I glued on the I heart dad sign. I also got that from Michael's. After I did that and the paint dried I took my green smooch and did all four corners. I then went around the heart and hand drew three stars. My papa is a star to me. I let this dry over night . I then took the heart shape from the frame and traced it on a picture of me and my papa. I then added it in to the frame. I hope he likes it.
Cards:
I made 2 cards to go with my projects. I used the Tim Holtz stamps (Clear Stamps THE JOURNEY Stampers Anonymous) for the antique truck and car. these stamps refused to ink up. I made the truck for my papa and the car for my best friend. I stamped them on white card stock. Then cut them out and glued them on to black card stock. I then found some green and blue paper and glued that to the middle of some brown cards. I stamped happy fathers day across the bottom.
Thanks for stopping by and looking at my Father's Day Projects. I hope I have gave you some idea's in finishing your Father's Day Projects.
Please leave a comment on this post (include a email) and also become a follower, for your chance to win a new antique car stamp from the Tim Holtz Playful Journey collection. It is the one i used in my card but unused. I will choose a winner with random.org on June 5th.
Your next stop on our hop is Kristal at
www.gettingcricky.com
.
Don't forget to visit all of the stops to be eligible for the Cricut Cartridge A Child's Year.
Here is a list of the participants in our hop in case you get lost:
Jen R
www.memorieswithjen.blogspot.com
Anita
www.anitaandbugs.blogspot.com
Amy
www.lovetocrop.com
Jackie
www.jackrabbitscrappin.blogspot.com
Stasia
www.stampzone.blogspot.com
Gina
www.californiascrappin-gcinderella21.blogspot.com
Sher
www.patternsbysher.blogspot.com
Michelle
www.designsoncloud9.blogspot.com
Laura:
www.makinprettythings.com
Kari
www.purplefuntastickcreations.com
Jenn
www.jennscrap2.blogspot.com
Samantha
www.buglovinchick.blogspot.com
Kathy
www.kathyand3kids.blogspot.com
Lori
www.scrappinmystressaway.blogspot.com
DD
www.craftydeb-ddscrafts.blogspot.com
Rhonda
www.craftingwithblue.blogspot.com
YOU ARE HERE
Kristal
www.gettingcricky.com
Amy
www.amychomas.blogspot.com
Darlene
www.talesoftayandbay.blogspot.com
Have A great day.