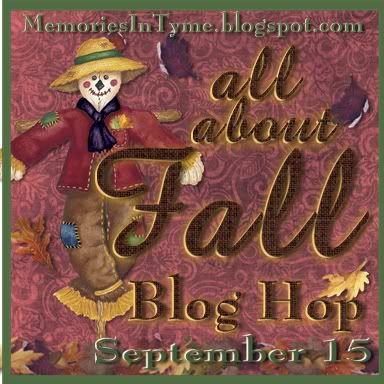 Welcome to the All About Fall Blog Hop with Memories in tyme.
We're so happy you could join us for this super-fun hop showcasing cards, layouts and projects that will hopefully bring the feeling of Fall to you. You'll find an array of ideas throughout the hop -- From cards to altered items, we hope you'll enjoy each and every project along the way!!
Fall is just about to start, so let's get hopping!! If you've hopped over from
LYNNE
, then you are in the right place!! If you've just popped in to visit my blog and you'd like to join our Fall-Time FUN, then please
CLICK HERE
to start at the beginning with Lynda's blog!! Several stops along the way will be offering some nifty prizes, so please be sure to keep an eye out for that and have fun.
So for my fall project I made a altered Fall picture frame. I purchased my wooden frame from Michael's and only paid $1 for it. I really love them frames. I painted it in a brown as when I think of Fall I think of brown and orange. After the paint dried I used a green ink pad and dabbed the frame all over with it. I then outline the middle and the outside with a string of pearls. I took a bag of Fall leaves I got from Michael's and I picked out some nice ones. A few had glitter on them and a few didn't . In the top right i layered 3 of the same shape but different size. In the bottom left I added 3 of the same shape but different sizes and color. I added a old gold antiqued button to the bottom bunch of leaves. I then took some black flourishes stickers and cut them to fit into the other two corners that was bare. Added the cut off pieces to the sides. At the top I placed 2 double side squares and used them to hold down my Fall charm sign. Then I added 2 small orange leaves on top of the squares to kind of cover them up.
Here is my finished Fall frame.
I really like how this turned out. I made it for a Fall frame swap so I am hoping my partner likes it. Do you like it?
I thought of offering some Fall candy so I will be giving you a small package of leaves and fall related items. To be elgible to win my candy please be a follower and comment below telling me what is your favorite thing to do in the Fall. I will use Mr.Random and he will choose a winner of my candy on Sept 17.
Thank you so much for hopping through the All About Fall Blog Hop today!! I hope you will enjoy the rest of your hopping experience!! Your next stop in the hop is
SANDY S.
.
Here's a list of the entire hop, in case you get lost along the way or want to revisit anyone: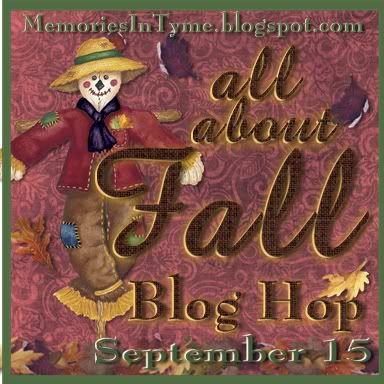 1. Lynda --
http://memoriesintyme.blogspot.com/
2. Amy --
http://www.lovetocrop.com
3. Dana--
http://danascraftycorner.blogspot.com
4. Jen R--
http://www.memorieswithjen.blogspot.com/
5. Anita--
http://www.anitaandbugs.blogspot.com
6. Kari -
http://purplefuntastickcreations.blogspot.com/
7. Lori -
http://scrappinmystressaway.blogspot.com
8. Gina -
http://californiascrappin-gcinderella21.blogspot.com/
9. Barbara Rosner -
http://barbaras-crafty-corner.blogspot.com
10. Crafty -
http://craftyhomemade.blogspot.com/
11. kacee McVic-
http://youhadmeatscrap.blogspot.com
12. Bobbi Jo
http://sweetsassydiva.com
13. Rhonda -
http://scraphappenswithrhonda.blogspot.com/
14. Susan -
http://susanascorner.blogspot.com/
15. Lynne -
http://slasewcraftiness.blogspot.com/
<--- you came from here
16. Rhonda -
http://craftingwithblue.blogspot.com
<---you are here
17. Sandy S. -
http://thecraftycreationspot.blogspot.com/
<---- your next stop
18. Lisa -
http://prettypaperprettyribbons.blogspot.com/
19. Deb -
http://www.scrappingmamma.net/
20. Dawn -
http://dawnsdesignsthatdelight.blogspot.com
21. Lisa -
http://handmadewithlove-lisa.blogspot.com/
22. Suzanne -
http://www.cricutcraftingrammy.blogspot.com